Alpine UTE-42BT Review and Teardown
In the past few years, an interesting new option has arisen in the Music Industry – the option to purchase music "As A Service" is now extremely popular through services such as Spotify, Google Play Music, etc. I instantly fell in love with Google Play Music All Access and needed a way to play it in my car through my HTC One (M7) Android cell phone. I decided to upgrade my car stereo to the Alpine UTE-42BT Digital Media Receiver. Here's my review after spending 2 months with the Alpine UTE-42BT.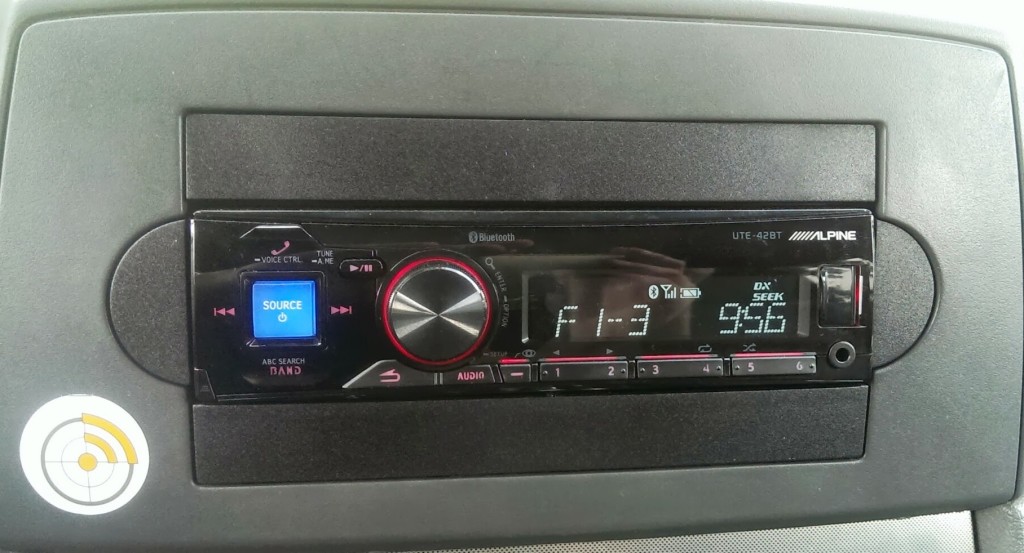 General Use
The Alpine UTE-42BT implements all of the features that you would expect from a Bluetooth Digital Media Receiver (DMR from here on). Here are some important specifications:
Bluetooth 3.0
AM/FM Radio, Bluetooth Audio, Aux, iPond/iPhone, and USB Media Modes
USB Playback for iPod/iPhone, USB Flash Drives (only USB Charging for Android, no playback)
There are no surprises here – the UTE42-BT does not have any extra interesting features. USB Playback is limited to USB Media and iPod/iPhone. I am guessing that the DMR may be able to read media files off an Android phone mounted as USB Storage, but who wants to do that every time they get in the car anyways? Android users have the option of Bluetooth Audio or Auxiliary Cable playback, and can always charge any phone using the USB Port.
I am OK with the lack of extra features on the UTE42-BT. I was previously using the JVC KD-X250BT, which implemented extra features such as a Pandora mode. I ultimately returned the JVC KD-X250BT because I ran into some annoying issues with Bluetooth Playback on the unit. I am happy to report that while the Alpine UTE-42BT may lack extra features, it gets the base features that are advertised right.
I have used the FM Radio, Bluetooth Audio, and USB iPod/iPhone connection extensively on the UTE-42BT and all three of those modes have worked great. If a phone is connected via Bluetooth and receives a call in any mode on the stereo, the phone call will take precedence. There are settings to adjust the individual volume of each mode, to include phone calls. In my case, my phone's default volume for taking calls was much louder than the FM radio, and I was able to adjust the in-call volume to -10dB on the stereo's settings in order to normalize volume.
Bluetooth Operation
Bluetooth Audio playback was the single most important feature to me when purchasing a Digital Media Receiver. The Alpine UTE-42BT's Bluetooth Audio feature has worked extremely well for me. I place my phone in the driver's seat cup-holder when driving and have not experienced any skipping. One time I did place the phone in my pocket during Bluetooth playback and did experience skipping, but moving the phone to the cup-holder alleviated this issue. The Play / Pause/ Previous / Next controls on the radio all work well over Bluetooth. Sound quality seems to be just fine over Bluetooth playback as well.
Alpine's specifications page claims that the UTE-42BT implements Bluetooth 3.0, A2DP (Bluetooth profile for streaming audio), and AVRCP 1.4 (Bluetooth profile for controlling audio/video). A photograph of the UTE-42BT's bluetooth module is included in the next section.
Teardown
I am continually amazed by real-world applications of embedded systems and how complicated they are getting to be. While cell phones are by far the most amazing embedded systems out there, a $99 car stereo that can interact with a cell phone has got a lot of embedded system technology going on in it. On top of this, the manufacturer must keep the BOM low to hit the $99 price point and still make a profit. I'm no expert at identifying parts in a Car Radio, but here's the main parts that I found in the Alpine UTE-42BT and what I think they're used for (feel free to comment and correct me).
Full Mainboard
The main components on the Alpine UTE-42BT are:
Toshiba TMPM32BC2DFG MCU

NXP Semiconductor TEA6636HW/03 IC

Alps Electric Bluetooth Module

Toshiba TB2920HQ Amplifier IC
Toshiba TMPM32BC2DFG MCU
The Toshiba TMPM32BC2DFG MCU appears to be the main MCU for the Alpine UTE-42BT. Searching for the part name brings up a page for approved Windows Media License MCU's, indicating that this contains a solution for decoding WMA files from a USB Flash Drive. Toshiba's TMPM3* series of MCU's implement a 32-bit ARM Cortex M3 processor. Since this is the biggest MCU that I could find on the mainboard, I'm going to assume it's the brains of the device.
NXP Semiconductor TEA6636HW/03 IC
I could not find any results online for this specific part number, but other NXP parts in the TEA6* family are audio-related parts such as AM/FM stereo controllers. My guess is that this IC is controlling the radio and possibly other audio-related features in the Alpine UTE-42BT.
Alps Electric Bluetooth Module
A quick search on Wikipedia will reveal that Alpine is a subsidiary of Japanese company Alps Electric. FCC Documents for the Bluetooth module in the UTE-42BT did not yield a specific make/model, and I finally came to the conclusion that it must be an in-house part by Alps made specifically for their radios.
Toshiba TB2920HQ Amplifier IC
Toshiba doesn't provide a specific data sheet for the TB2920HQ, meaning that this amplifier IC may just be in the TB292*HQ series. I tried to desolder the heatsink to get a full part number off the IC, but after burning the PCB and not making much progress on the solder I gave up.
Head Unit
The PCB for the head unit, with a Rohm Semiconductor BU97500 Multifunction Segment Driver to control the segmented display.
Conclusion
The Alpine UTE-42BT is a solid product. It implements all of the basic features that you would expect in a Digital Media Receiver, and all of the features work. The number of features expected in lower-end products is growing, and it can be easy for manufacturers to overlook details when implementing features in order to cut costs. Alpine seems to have worked hard to ensure that every basic detail was works properly on the UTE-42BT and for that, they will continue to receive my business in the future.